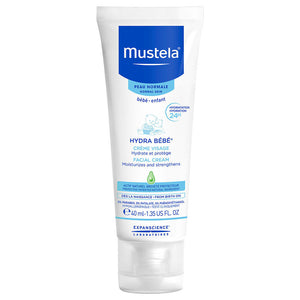 كريم الوجه هيدرا بيبي من ماركة موستيلا - 40 مل
المميزات:

تعمل الزيوت النباتية وفيتامينات E و F على ترطيب البشرة مع الحصول على نتائج دائمة.
تمنح زبدة الشيا البشرة إحساساً بالنضارة والنعومة الحريرية والانتعاش.
يحمي العناصر الحيوية الهامة داخل بشرة الرضيع حالياً ومستقبلاً.
نسبة المكونات الطبيعية المنشأ 90%.
الوصف:

عناية يومية بوجه الرضيع، حيث يعمل على ترطيب البشرة وتقويتها منذ اللحظات الأولى من ولادة الرضيع.
Features:
Vegetable oils and vitamins E and F instantly hydrate the skin with lasting effects.
Shea butter leaves the skin feeling supple, silky and gorgeously soft.
Protects the vital resources in baby's skin today for tomorrow.
90% natural origin.
Description:
Daily skincare for the face and hydrates and strengthens baby's skin, from birth on.