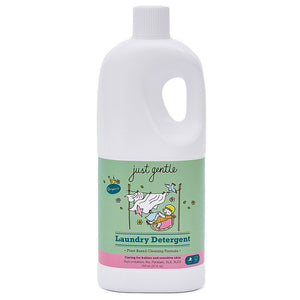 صابون عضوي لغسيل الملابس 750مل من ماركة جست جنتل
المميزات:

رائحة أزهار منعشة
منتج خالي من الكحول والبارابين والفثالات وكبريتات لوريل الصوديوم ومنتجات الألبان والغلوتين
مكونات عضوية معتمدة من قبل ايكوسيرت، فرنسا
صنع في تايلاند
الوصف:


تركيبة نباتية مثالية للأطفال الرضع والأشخاص ذوي البشرة الحساسة. يزيل البقع العنيدة والروائح على الملابس دون ترك أي أثار. قابل للغسيل على اليد أو الغسالة.
Features:
Refreshing Floral scent
Suitable for new-borns and people with sensitive skin
Free from alcohol, parabens, phthalates, SLS, SLES, dairy, gluten.
Organic ingredients certified by Ecocert, France.
Description:
Gently softens clothes while retaining bright colours. Our natural formula does not leave behind any harsh chemical residue that may cause skin irritation. Delight in our allergen free refreshing scent. Suitable for both hand and machine wash.