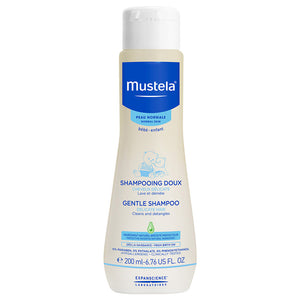 شامبو الأطفال اللطيف من ماركة موستيلا - 200 مل
المميزات:

ينظف فروة الرأس بشكل لطيف.
يحتوي على مستخلص البابونج المنعّم وبيرسيوس الأفوكادو الطبيعي.
لا تتسبب تركيبته في وخز العينين أو الدموع
يعمل على انسيابية الشعر بسهولة عند تمشيطه
نسبة المكونات الطبيعية المنشأ 93%.
الوصف:

مثالي لغسل فروة رأس الرضيع الحساسة ويعمل على انسيابية الشعر بسهولة عند تمشيطه. كما أنه يحمي العناصر الحيوية داخل بشرة الرضيع حالياً ومستقبلاً.
Features:
Gently cleanses the scalp
Contains softening chamomile extract and Avocado Perseose
Does not sting the eyes
Helps disentangle the hair.
93% of natural ingredients
Description:
Ideal for washing your baby's fine and delicate hair Protects the vital resources in baby's skin today for tomorrow.