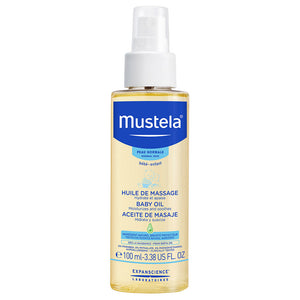 Mustela Baby Massage Oil - 100 Ml
Features:

An exclusive formula formulated with a skin-protective vegetable oil blend rich in essential fatty acids.
Protects important vital elements within baby's skin now and in the future.
It does not stick to the skin, is fast absorbing and is suitable for massage after bathing as well.
The percentage of ingredients of natural origin is 99%.
Description:Give your baby a unique sensory experience with the all-new Mustela Massage Oil: With its rich liquid texture, it will penetrate deep into the skin quickly and leave it soft and hydrated.

Features:
Contains a complex of dermo-protecting plant oils.
Protects the vital resources in baby's skin today for tomorrow.
Non sticky rapidly absorbed , suited for massage after bath also.
99% natural origin.
Description:
Offer your baby a unique sensory experience with the new Mustela massage oil : With a rich fluid texture, penetrates the skin rapidly and leaves it soft and moisturised.