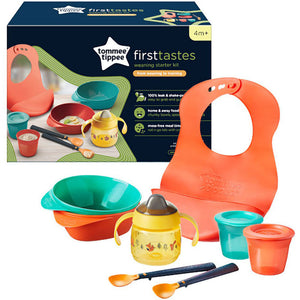 Tommee Tippee First Tastes Weaning Starter Kit.
Baby Eating Starter Kit.
Introducing new foods and tastes to your little one can be a fun and messy adventure. This weaning kit contains everything you need to start introducing sold food to your baby. As your little one is now craving new tastes and experiences this weaning kit is full of practical bright, bold and fun to use products to make weaning easier for you and fun for them.
– Everything you need to start weaning your baby
– Kit includes 2x Easy Scoop Feeding Bowls, 2x Feeding Spoons, 1x Roll n Go Bib, 1x Weaning Sippee Cup, 2x Pop Up Weaning Pots
– Introduce new tastes and textures with easy-clean table wear
– Keep mess at a minimum as you introduce your baby to solid foods
– BPA free and dishwasher safe