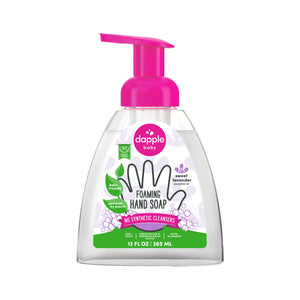 SPECIALLY FORMULATED TO CLEAN KIDS' HANDS: Dapple Foaming Hand Soap is plant-based and cleans hands without synthetic cleansers and harsh chemicals. 

EFFECTIVE AND POWERFUL PLANT-BASED CLEANING WHILE CONSERVING WATER: Effectively cleans hands and rinses easily while conserving water with instant foam. 

MINDFUL INGREDIENTS: Dapple Foaming Hand Soap is pediatrician and dermatologist tested, hypoallergenic, made with plant-based ingredients and without harsh chemicals, parabens, sulfates, phthalates, mineral oil, synthetic dyes & fragrances, chlorine, alcohol, SLS, SLES, MEA, DEA, TEA.

MADE WITH LAVENDER ESSENTIAL OIL: Lightly fragranced with natural lavender essential oil and no synthetic fragrances.

FOAMING WITH CONVENIENT PUMP TOP: Comes with a convenient pump top, foaming dispenser for clean and easy use.