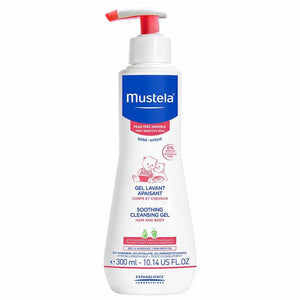 غسول الجسم والشعر المنظف والمهدئ للبشرة الحساسة ♥️

مناسب للبشرة الحساسة للغاية بدءاً منذ الولادة بما في ذلك المواليد الخارجين من وحدة العناية الحثيثة لحديثي الولادة.
ينظف بشرة الرضيع برفق وفعالية.
يهدئ ويحسن المظهر ويخفف الشعور بالحرقة الناتج عن الحساسية الشديدة في بشرة الرضّع،
وخصوصاً بسبب الاستحمام بالماء العسر.
تركيبة لا تتسبب بالدموع.

خالي من الصابون
خالي من البرابين والفثلات phthalates وفينوكسي إيثانول

السعة 300 ml


Features:
New born skin strengthens
Soothes even fragile and immature child skins
Fragrance-free and biodegradable formula is specifically designed for babies and children with very sensitive, rashy or reactive skin.
Very mild surfactants, natural origin: gently clean to respect very sensitive skin
Soap-free
Hypoallergenic
Hight tolerance
0% paraben, phthalate, phenoxyethanol
Description:
Daily soothing cleansing gel for baby hair and body of very sensitive skin from birth on including newborns out of the nicu.effectively and gently cleans the baby skin.soothes to improve the appearance and tingling sensations associated with very sensitive baby skin, especially due to hard water bathing. Tear-free formula.